Over the last couple months I have hauled waaaay more books than normal, and they have all been sitting, unread, on my kitchen counter.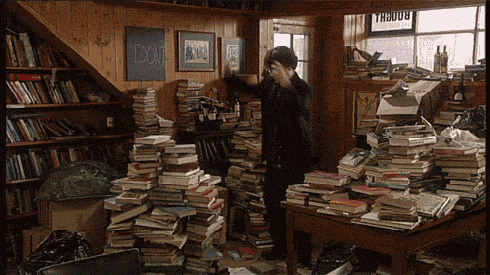 I normally don't keep track of when I buy books, but I have so many that I wanted to do a post!  This list is roughly all of books I got in July, August, and so far this September.  I'm sure I missed some, but here goes nothing:
Physical Books
OwlCrate:
Sorcery of Thorns was actually in the June box, but my dogs ate my copy so I had to get a new one.  The copy I got was from Heather @ The Frozen Library.  I traded my copies of My Plain Jane and The Hazel Wood for her OwlCrate edition of Sorcery of Thorns.
House of Salt and Sorrows came in the August box.
Not pictured – I also received Spin The Dawn in the July box, but I have no desire to read it so I am not planning on keeping it.
Trades
While looking for a replacement copy of Sorcery of Thorns, I discovered book trading on twitter! I may have gone a bit crazy with this newfound phenomena #booksfortrade #booksforsale #arcsfortrade
I traded From Twinkle, With Love to Ally @ The Book Shrine in exchange for An Assassin's Guide to Love & Treason
I received No Good Deed from Marika @ GreyGardens!  I just paid for shipping. (So it wasn't technically a trade, but I found it on her post with #booksfortrade)
I traded Amber & Dust to Erin @ The Book Nut in exchange for Storm and Fury
Giveaways
I won Cursed in an Instagram giveaway hosted by Will Read For Booze
I won Crown of Coral and Pearl in an Instagram giveaway hosted by Lindbooks
Pre-Odered
I pre-ordered both The Girl The Sea Gave Back and The Storm Crow to make sure I got first editions because both books were doing a limited run of books that included these gorgeous naked covers!
Bought
I had to go get a copy of Darkdawn on the day it was released! (even though I haven't read it yet haha)
I bought Serpent & Dove because it is the Barnes & Noble book club book for October and I want to give their book club a try!
I joined a Falling Kingdoms read-a-thon so of course I had to get the book!
I found How to Train Your Dragon at a garage sale for $0.25 so I had to get it!
I loved Austentatious so I wanted to get a physical copy so I can mark it up and add tabs to help me find all the cool info in it!
I splurged and bought myself this really cool edition of Pride & Prejudice to add to my collection ❤
Not Pictured
These didn't get pictured because I have already read them so they got put away, but I still need to write reviews for them!
---
Audiobooks
Bought
I used my monthly Audible credits for these two, and I have already listened to them both!
Freebies
Every month Audible gives you a list of like 6 books and you get to pick 2 for free.  These are my picks for July, August, and September (I don't know why I only used one of my picks in September?) I probably won't ever listen to these ones, but they were free and who knows?
---
E-Books
Giveaways / Gifts
Alexa @ Pages of Love enjoyed In Bed with a Highlander so much she decided to share the love and giveaway a couple copies, and I love Scottish romances ❤
I won The Wedding Obsession and This Billionaire Bride from Nen @ Jen for "guessing" where Nen was. ("guessing" is in quotes because I totally cheated by giving a sarcastic answer but they liked it so I still won 😀 )
My friend Phil gifted me A Matter of Honor because he knows how much I like Pride and Prejudice adaptations!
Bought
I bought Prudence with the intention of joining Mary's Parasolverse read-along, back in July, but I never got around to actually reading it 😦 I am still planning on reading it eventually though!
Prep & Prejudice is a Pride and Prejudice adaptation and it was $1 so I couldn't pass it up.
Unsung Heroine is the 4th book in the Heroine Complex universe and I am super excited to read it (now I just need to find the time!)
Freebies
Most, if not all of these I got through the Prime First Reads program where they give you a free book or two each month.  Just like with the Audible freebies they give you a list and you get to pick one.
---
There is a very good chance I missed some books, but my total is 37! (I might have a problem)
Physical Books – 17
Audiobooks – 7
E-books – 13
Total – 37
Of the 37 books , I have only read 7 of them, and 2 of those I read prior to purchasing them (Pride and Prejudice and Austentatious) I am planning on reading all of books on my list, except the "freebies" from Prime and Audible, but its still going to take a while!
Have you read any of these? Which ones should I read next?