Libraries of Wonder
June 2019 OwlCrate Box
Contents:
Key Gel Pen
Library Quote coaster set illustrated by KDP Letters
Beauty and The Beast inspired coffee by Book Beau
Strange The Dreamer Tote Bag designed by Stella Bookish Art
The Chronicles of Narnia metal book ends designed by Hey Alas Creative
Sorcery of Thorns by Margaret Rogerson
Sorcery of Thorns sticker decal
Sorcery of Thorns enamel pin designed by Brio and Brandish
You may or may not have noticed, but there are items missing from the picture above.  The first (and most obvious) is the book itself.  The second is the coffee. These aren't missing because I've read / drank them.  They are missing because my dogs completely destroyed them 😦 I'm not sad about the coffee because I don't like coffee and was just going to give it to my friend, but I am super bummed about the book 😦 I think I will end up buying another copy because I actually really want to read this one!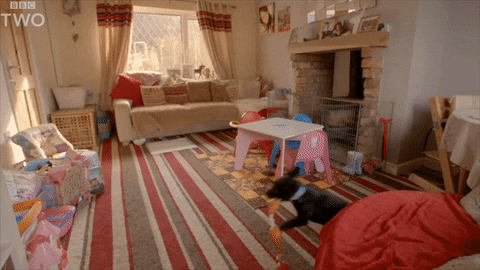 *not my dog but I imagine this is what happens when they get loose in the house when I am not home!
I love love love these coasters!! Part of me wants to use them but part of me doesn't want them to get ruined either.  (I think I will save the HP one and use the rest!) Here are the quotes they feature:
When in doubt go to the library.

Harry Potter and the Chamber of Secrets by J.K. Rowling

Imagine a place where the dead rest on shelves like books.

The Unbound by Victoria Schwab

Libraries were full of ideas – perhaps the most dangerous and powerful of all weapons.

Throne of Glass by Sarah J. Maas

Books spoke mind to mind, soul to soul across the abyss of time and distance.

Paper and Fire by Rachel Caine
I haven't read the book associated with the tote but it is really really pretty and I love the blue color! Also, the pin is awesome.  Even without reading the book this is my favorite OwlCrate pin so far! Its got a cat and books on it!
I've already found homes for the Gel Pen and one of the bookends!
The Gel Pen is cool and it writes really well.  I don't have a ton of use for pens but I stuck it in my Groot pencil Holder at work.
The bookends have a really cool design, but I actually like them better because they have a super low profile.  I can use them in my bookshelf cubbies and you can't see them at all.  I am using one of them to hold up my Deadpool Graphic Novels so that I can decorate the rest of the box with my Deadpool funko pops!
Like I mentioned earlier, my dogs destroyed my copy of a Sorcery of Thorns 😦 but I am going to buy another copy because it sounds awesome!
I absolutely loved this box! I love that the items are actually useful.  Everything that wasn't eaten by my dogs will actually get used at some point (if it hasn't been used already!) I think my favorite items are the bookends, but mostly because I just re-did my library and they came it super handy!
Next month's theme is Tournaments & Trials which sounds … interesting? Haha but we get a mug and I love mugs!