I was tagged by Michaela @ Journey Into Books. Thanks for the Tag!  Go check out her blog, its awesome!
This is actually the second time I have done this award.  The first was a year ago tomorrow.  I thought it would be fun to answer all the prompts and then compare my new answers to my answers from last time! Also, this time around, I tried to pick books I have read in the last year.
BEST ACTOR – BEST MALE PROTAGONIST
Marko from Saga
Previous Choice: Nate from Heroine Complex
BEST ACTRESS – BEST FEMALE PROTAGONIST
Lila from A Darker Shade of Magic
Previous Choice: Elizabeth from Pride and Prejudice
BEST CINEMATOGRAPHY – BEST PLOT TWIST
The Cruel Prince & The Wicked King
Previous Choice: Godsgrave
BEST COSTUME DESIGN – BEST BOOK COVER
Sherwood
If you ask me this question again in a couple hours you will probably get a different answer.  I love so many different book covers!!
Previous Choice: The Cruel Prince
BEST SUPPORTING ACTRESS AND ACTOR – BEST FEMALE AND MALE SIDEKICKS
Ron and Hermione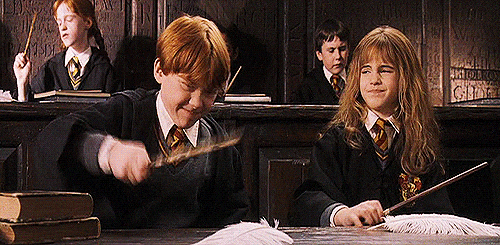 I have re-read most of the Harry Potter books in the last year and they are definitely the best sidekicks OF ALL TIME!
Previous Choice: Aaron, Darvish, and Chandra from The Fire's Stone
BEST ON-SCREEN KISS – BEST COUPLE/ROMANCE
Ethan and Mo from The Princess and the Fangirl
This choice is kind of a cop out because it is a very Pride and Prejudice esque romance and I loved it!
Previous Choice: No Previous Choice / Wasn't a Question Last Time
BEST ADAPTED SCREENPLAY (BEST BOOK-TO-MOVIE ADAPTATION)
The Umbrella Academy
I know this isn't a movie, but I am picking it anyway.  I thought the graphic novel was pretty awful, and the tv show was brilliant.  The are other adaptations that I like better, but I also loved their books, so considering how much I disliked the book compared to how much I loved the show, this might be one of the best adaptations I have seen.
Previous Choice: The Princess Bride
BEST ANIMATED FEATURE – BEST CHILDREN'S BOOK
P is for Pterodactyl
Previous Choice: Last time the Prompt was "Best Animated Feature: A book that would work well in animated format" and I chose "Daughter of the Pirate King"
BEST DIRECTOR – BEST NEW-TO-YOU AUTHOR
V.E. Schwab
I read my first Schwab book back in June '18 and since then I have read 6 of her books, and am currently reading a 7th.
Previous Choice: Ashley Poston
BEST SHORT-FILM – BEST NOVELLA/SHORT BOOK
One Con Glory (107 pages)
So I read this one more than a year ago, but I don't read a lot of short books, so I just sorted my goodreads books by length and picked the shortest novel that I loved.
Previous Choice: One Con Glory
BEST PICTURE – BEST STANDALONE
The Fire's Stone
This one was hard for me because I don't read a lot of Stand Alones, but I loved The Fire's Stone!
Previous Choice: Uprooted
BEST DOCUMENTARY – BEST HISTORICAL FICTION
Mortal Heart
Previous Choice: Girl in Blue
BEST ORIGINAL SOUNDTRACK – BEST AUDIOBOOK
Second Hand Curses
Previous Choice: No Previous Choice / Wasn't a Question Last Time
BEST FOREIGN FILM – BEST BOOK WITH DIVERSE REPRESENTATION
The Gentleman's Guide to Vice and Virtue
Previous Choice: No Previous Choice / Wasn't a Question Last Time
Only one of my answers was the same, but I did have lot of books that were on both lists, but won different awards this time!
I Tag:
As always, don't feel obligated to participate! If you do, let me know so I can check out your answers!