Pride and Prejudice
🌟🌟🌟🌟🌟
Amazon | IMDB | Rotten Tomatoes
I just discovered that the 1995 BBC Pride and Prejudice TV Mini-Series is on Amazon Prime Video! I can watch it for free! (I own the DVD so I can always watch it for free.  I don't know why I was so excited to find it on Prime, but its the little things that make me happy!) I may or may not have stayed up till 2:30 am watching it last night.  Getting up for work this morning was rough!  But it was worth it! I don't regret it whatsoever!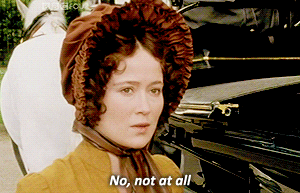 Two Words: Colin Firth
And we can't forget Jennifer Ehle!
They are both amazing and I love them!
In case you couldn't tell I love this adaptation! Its better than a movie because it is longer and therefore covers more, but it also isn't a full TV Series so it isn't too drawn out.  Its perfect.  I have watched it many, many times! Anyone who loves Pride and Prejudice needs to watch this adaptation! Ahhhhhh I just love it so much!!!